Que pena, este evento já terminou! :(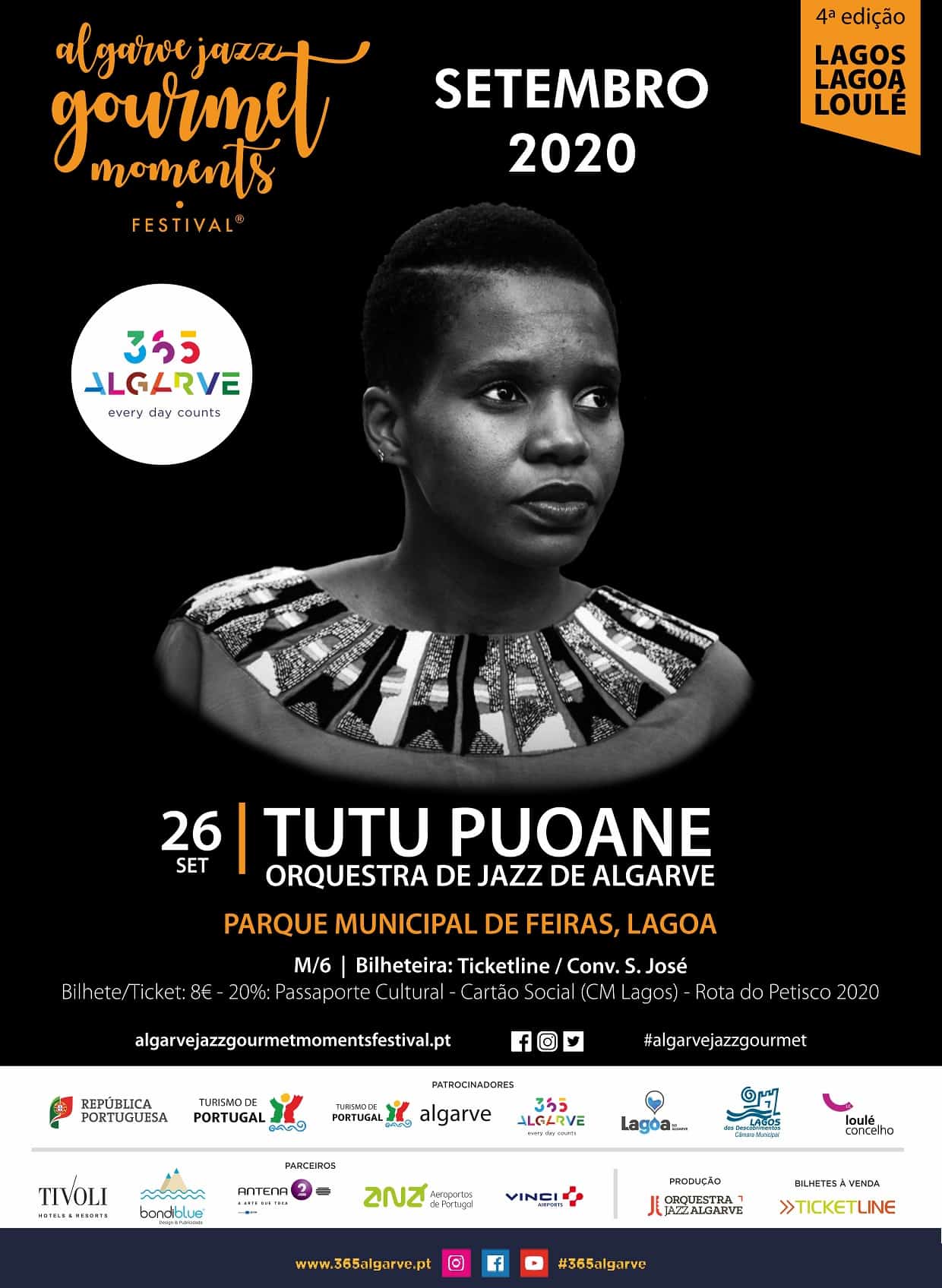 ORQUESTRA DE JAZZ ALGARVE | TUTU PUOANE
Música & Festivais
21:30 | Sábado
Local
Parque Municipal de Feiras e Exposições de Lagoa, Lagoa
Classificação Etária
M/06 anos
Descrição do Evento
ORQUESTRA DE JAZZ ALGARVE | TUTU PUOANE – A África do Sul contribui, ao longo da História do Jazz, com alguns dos maiores nomes do Jazz Mundial – algo que muitas vezes esquecemos – mas que estão impressos na História desta Música.
A África do Sul continua a produzir grandes músicos, e Tutu Puoane é uma voz, dos maiores vultos da atualidade. Com um percurso iniciado na Universidade de Cape Town, onde se graduou em Música, rapidamente veio para a Europa, passando ainda pelo Real Conservatório de Hague, na Holanda, residindo hoje na Bélgica.
O seu percurso ascendente na Europa, permitiu tocar com os melhores músicos da cena europeia, vários discos gravados, entre eles com a BJO Brussels Jazz Orchestra. É o repertório desse disco, que nos é gentilmente cedido pela BJO, que vamos interpretar: "Mama África". Um repertório leve que mescla os sons do Jazz Europeu, sem esquecer as raízes Sul Africanas de Tutu Puoane e todo o seu talento e artisticidade.
In 2001, 2 time SAMA Award winner Tutu Puoane finished her vocal studies at the music college of the university of cape town (UCT), she turned down a big contract with a major South African record company and decided instead to grab with both hands a once-in-a-lifetime opportunity : she accepted a most generous offer of Dutch pianist Jack van Poll – who was living and teaching in cape town at the time – to go and study in Europe in order to develop to the fullest her unique talents as a jazz vocalist and performer.
This brave decision shows already some special aspects of Puoane's character : strength, determination and an ability to dream beyond the obvious. Today, miss Puoane has grown into a skilled and experienced singer and performer, having gained respect in Europe from musicians and audiences alike. She released two albums with her European band : ʻsong' (2007) and ʻquiet now' (2009, which won a SAMA in 2010), both of which received critical acclaim.
One of Europe's best big bands, the Brussels Jazz Orchestra, invited her to work with them, resulting in an album called ʻMama Africa' celebrating the late and great Miriam Makeba, which scooped the South African Music Award for Best Traditional Jazz Album of 2011. Amongst tutu's fans are international music celebrities like harmonica-legend Toots Thielemans and queen of jazz voice, miss Dianne Reeves. Yet, to the South African audience she still remains a well-kept secret, only known in small jazz surroundings. The fact that she is arguably one of the best young voices and personalities South Africa has ever produced, should easily change that for the better.
Tutu Puoane was born May 31st, 1979 in Atteridgeville township,but grew up in Mamelodi, Pretoria. She started playing music professionally in 1997 in down town Johannesburg. Tutu studied jazz vocals at the university of Cape Town with Jelena Reveshin and Virginia Davids and at the royal conservatory of The Hague (Netherlands) with Rachel Gould. She played concerts all over the world in countries like Italy, US (New York and New Orleans), Germany, Belgium, The Netherlands, France, Luxemburg and Switzerland.
Tutu has performed extensively in South Africa with many great South African musicians. In 2001, she performed at the north sea jazz festival cape town, leading an Afro-latino band, Tucan Tucan. Miiss Puoane toured new york in 2000 as the vocalist with the South African national youth big band. She received several awards from major South African jazz competitions. In 2000 she was won the ʻold mutual jazz encounters' for cape region and in 2001 she received a merit award for young promising talent at the Daimler Chrysler South African jazz competition. In 2004 she was the recipient of the standard bank young artist of the year award for music.
In September of 2002, Tutu moved to Europe, spending a year and a half in The Netherlands to study and then relocating in 2004 to her current home in Antwerp, Belgium, where she's working steadily on her career. She released her successful debut album ʻsong' in 2007 and the follow-up came with ʻquiet now' in 2009, which won the SAMA Award for the 2010 Best Traditional Jazz Album. Miss Puoane leads her own quartet and is a guest vocalist for the great Brussels Jazz Orchestra, with which she released an album in honor of Miriam Makeba, called ʻMama Africa', which also won a SAMA in May 2011 in the same category as 'quiet now'
Tutu has shared the stage with the very best South African and International jazz musicians. Beginning April 2008 she blew away a full house at the Cape Town International Jazz Festival, leaving her fellow South Africans in awe of her voice, charisma and unique mix of jazz, soul and African music.
ORQUESTRA DE JAZZ ALGARVE | TUTU PUOANE – Mais informação ver aqui
Informação Extra:
Autocarros, Estacionamento
Morada:
Parque Municipal de Feiras e Exposições de Lagoa 8401 – 901 Lagoa
Coordenadas GPS:
37°7'51.91"N
8°26'52.07"W