Que pena, este evento já terminou! :(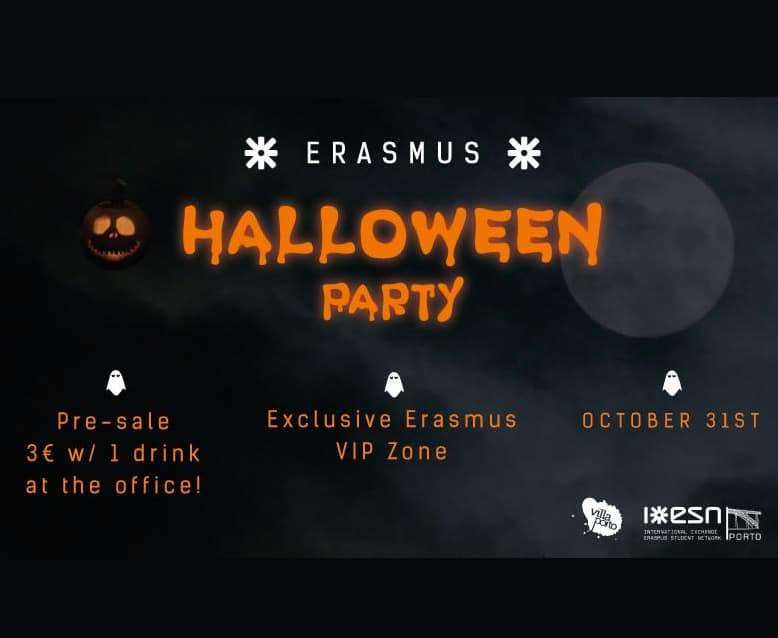 ERASMUS – HALLOWEEN PARTY 2018 – ESN PORTO
Sugestões Halloween
23:59 | Quarta
Classificação Etária
A classificar pela CCE
Descrição do Evento
ERASMUS – HALLOWEEN PARTY 2018 – ESN PORTO – Beware the October 31st! The spookiest night of the year is almost here and we can promise you a night that will not vanish from your head! Everyone (and everything) is going out on Halloween! Dead or alive, we invite you for our… 🎃Halloween Party 🎃
We'll have 2 areas in Villa with different types of music. But… In this party we reserved a ❗SPECIAL and EXCLUSIVE area for all of you❗ Erasmus! In this VIP AREA, on the second floor of Villa, you can count with special prices on the drinks 😉
To take part of this mysterious and scary Halloween in Villa, you must have a bracelet that we have made specially for you!
⬥⬥⬥Where can you buy the bracelet? Go to our ESN Office until the 31st of October!** ⬥⬥⬥
*This is Halloween, this is Halloween Pumpkins scream in the dead of night* SCREAM!🦇🦇🦇🦇
*PRICE:
⬥⬥ Pre-sale: 3€ with one free drink (Until the 31st October at 6pm)
⬥⬥ At the door: 5€ with one free drink (On the 31st October at Villa Porto)
**Sales start on Tuesday, 23rd of October
Make sure that you have your bracelet on the day of the party!!
The scenario in Villa is going to be dark, cold, foggy, scary, full of shadows. You can believe when we say that it will be possible to "ride with the moon in the dead of night". Are you ready for it?👻👻👻
And, of course, you can also count on a lot of surprises!
Drink prices (❗ONLY in the Erasmus Exclusive area):
· Beer – 1,5€
· Shot – 2€
· Spirit – 3,50€
Are you ready… Trick or treat? wink
Note: Villa is not a space fully accessible to people with reduced mobility, but we can always manage a way to help you party with us!
This is a private party and the right of admission is reserved to ESN Porto.
Muahahahaha,
ESN Porto🦇
Morada:
R. do Dr. Magalhães Lemos 109, 4000-440 Porto
Coordenadas GPS:
41°8'51.74"N
8°36'36.22"W