Que pena, este evento já terminou! :(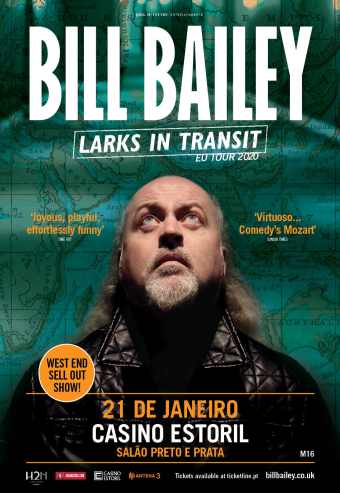 BILL BAILEY – LARKS IN TRANSIT | CASINO ESTORIL
Stand up Comedy
21:30 | Quinta
Local
CASINO ESTORIL - Salão Preto e Prata, Estoril
Classificação Etária
M/14 anos
Descrição do Evento
BILL BAILEY – LARKS IN TRANSIT | CASINO ESTORIL – Estreia em Portugal, o mestre da comédia musical Bill Bailey apresenta Larks In Transit, uma compilação de histórias de viajantes e de mais de 20 anos de aventuras em digressão. O virtuosismo musical, as premissas surreais e a inteligência que o definem como uma lenda viva do humor britânico tornam este espectáculo imperdível.
Em palco, o comediante afamado pela série de culto "Black Books" percorre um caminho que vai desde a política, filosofia, death metal, passa pelos toques de telemóvel e acaba num encontro aflitivo com Paul McCartney.
A não perder aquele que foi considerado pelo Daily Telegraphy o comediante "mais cerebral da sua geração".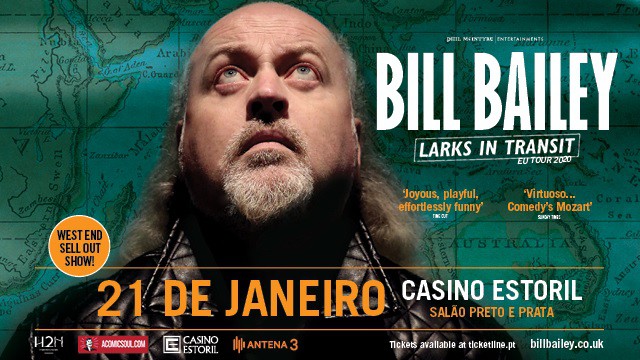 Bill Bailey is a comedian, musician, writer, author, director, presenter and keen stand-up paddle-boarder known for his live shows such as Part Troll, Tinselworm, Qualmpeddler and Limboland and his work on the television programmes Black Books, Never Mind the Buzzcocks and QI.
2018
Bill is currently filming a comedy drama 'In The Long Run' created by Idris Elba for Sky
Bill continues to tour as well as being busy developing more ideas for film and television with his own production company, Glassbox Productions
2017
Curated the Cabinet of Curiosities exhibition at Hull Maritime Museum as part of Hull's 2017 City of Culture
Walked 100 miles along the Icknield Way and the Ridgeway Path to raise money for Stand Up To Cancer
2016
Continuation of Limboland
Bill Bailey's Remarkable Guide to British Birds published by Quercus Books
2015
Bill Bailey re-imagines one of his most popular songs in this spoof music video, Love Song
Bill raised over £10k for Cancer Research UK by walking 87 miles of the Ridgeway Path
Limboland UK tour & Vaudeville West End run
2014
Scandinavian tour
Performed live at Edinburgh Castle
Toured Australia & New Zealand with his Limboland show
2012
Bill started work on his new show, Qualmpeddler, taking it on a tour of the Highlands and Ireland in late Spring and on to Australia and New Zealand
Began filming Bill Bailey's Jungle Hero, a two-part documentary about naturalist Alfred Russel Wallace for BBC Two
2011
Bill headlined the Saturn Stage at the Sonisphere Festival, Knebworth, sharing a line-up that included Slayer, Motorhead, Biffy Clyro, Metallica and Slipknot and performing to 60,000 metal and comedy fans
Bill recorded the album Bill Bailey In Metal.
Toured New York, Boston, Chicago, and Toronto.
Appeared in the Doctor Who Christmas Special: The Doctor, the Widow and the Wardrobe
2010
Dandelion Mind tour… and getting a carnivorous plant named after him 'Nepenthes Bill Bailey'
Bill Bailey's Birdwatching Bonanza was transmitted in January 2010 on Sky1 HD and Sky1
Bill played the part of Angus the hangman for John Landis' feature film Burke and Hare
Bill wrote and directed short film Carpark Babylon for the Little Crackers series for Sky1
2009
Bill toured his Remarkable Guide to the Orchestra show culminating in a performance at London's O2 Arena
2008
Bill wrote and performed his Remarkable Guide to the Orchestra at the Royal Albert Hall with Anne Dudley and the BBC Concert Orchestra. This was broadcast on BBC Two in 2009 and went on to win two International Awards at the Banff International TV Festival
Bill appeared in Channel 4's Skins, and performed at a host of summer festivals, including the inaugural Comedy Session at the iconic Eden Project in Cornwall
2007
Bill took his audio-visual comedic extravaganza, Tinselworm, on a sold-out arena tour of the UK and a subsequent West End run at the Gielgud Theatre
2006
Bill appeared on our screens on Sunday afternoons hosting Wild Thing I Love You, a Channel 4 wildlife show
2005
At the Edinburgh Festival, Bill played the slouchy, unkempt Oscar in The Odd Couple. '…a role he was born to play.' – The Telegraph
2004
Bill took the show Part Troll on tour in the UK and worldwide culminating in a DVD recording at the Hammersmith Apollo
2003
At the Edinburgh Fringe Festival, Bill joined the all-comedian cast in an extremely well-received production of 12 Angry Men, as the restrained Juror 4
2002
Bill took over as team captain on Never Mind the Buzzcocks. He remained in the captain's chair on the show for 11 series before departing in 2008
2001
Bill's tour Bewilderness played for an extended run in New York and was described in The New York Times as "a treat for the funny bone, the brain and the ear", and The Telegraph pronouncing him "a hobbit with a wicked sense of humour"
2000
Bill appeared as a small-time drug dealer in the Craig Ferguson penned comedy film Saving Grace
1999 Bill appeared in acclaimed comedy Spaced as Bilbo Bagshot; comic store owner and die-hard Hawk the Slayer fan
Bill landed the role alongside Dylan Moran in the award-winning sitcom Black Books as increasingly deranged ex-accountant Manny Bianco
1998
Bill wrote and starred in BBC Two show, Is it Bill Bailey?; a mixture of musical parodies and surreal sketches
1994
Bill teamed up with Sean Lock for their Edinburgh show Rock, before taking his first solo show to the Edinburgh Festival in 1995 and earning a Perrier nomination in 1996
BILL BAILEY – LARKS IN TRANSIT | CASINO ESTORIL – Mais informação ver aqui
Informação Extra:
Autocarros, Bares, Comboios, Estacionamento, Restaurantes
Morada:
Av. Dr. Stlanley Ho, 2765-190 Estoril
Coordenadas GPS:
38°42'26.38"N
9°23'50.33"W
Transportes:
Comboio: Estoril