Que pena, este evento já terminou! :(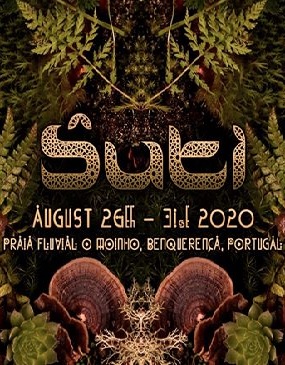 SUTI FESTIVAL 2020 | BENQUERENÇA
Música & Festivais
Data
26/08/2020 até 31/08/2020
15:00 | Quarta, Quinta, Sexta, Sábado, Domingo, Segunda
Local
Praia Fluvial O Moinho, Castelo Branco
Classificação Etária
Todas as Idades
Descrição do Evento
SUTI FESTIVAL 2020 | BENQUERENÇA – A second psychedelic revolution is shifting culture and has the potential to provide direction for a full transformation of our understanding of who we are and how we relate to ourselves, each other and the world-at-large.
Seeds sown during the course of our collective past lay dormant within our cultural and genetic soil and are germinating at an increasing rate.
The climate within which these seeds are germinating is a perfect storm of crises (environmental, cultural, social, political) that are providing us with an ever-clearer reflection of our collective shadow. Meanwhile new technologies are opening potentials for creative self-expression of exponentially increasing clarity and depth, providing us with unique mirrors with which to experience ourselves and learn.
Suti is an intimate, forward-thinking gathering focused on nurturing these germinating seeds in a family friendly setting. We celebrate novelty, diversity and the power of the human imagination.
Our music policy is wide and focused on artistic self-expression, keeping things on the side of the deeply psychedelic and avoiding the prisons of generic boundaries. You can expect a wide spectrum journey over two stages, taking in dark prog, psychedelic techno, psy-chill, psychedelic bass music, global grooves and world music.
Suti 2020 will host two stages of diverse psychedelic music including live performances, psychedelic techno, dark prog, psy-bass, psychill, acoustic and world music.
This year the Psychedelic Dream Temple will return with their amazing art gallery.
We also have a new and passionate team curating our Animo space where you will find lots of workshops and presentations to engage with, as well as a well prepared kids area for families to enjoy.
We are releasing a little of our lineup every Monday so keep watch on the page. Lineup so far:
SEMO STAGE
Evil Oil Man (Zenon)
Hypogeo (Zenon)
Hedflux – psybreaks DJ set (Luminus)
Tribone (Shanti Planti)
Peter Groskreutz
Kromagon (Zenon)
Land Switcher (Shanti Planti)
Nangijala (Zenon)
Zen Baboon
Zen Racoon
Grub (Zenon)
Schrott (Zenon)
Kleiman (Undergroove)
Mikko Heikinpoika (opening ceremony) (Merkaba)
Flembaz (Blind Arc)
Alterra Project (Mindspring)
Redshift (Techgnosis)
Seb G (Techgnosis)
Sutekh (Bom Shanka)
Netrin (Occulta)
Synapse (Techgnosis)
Prophet
Blau Transition
Cajarana
Almacalma (Moonloop)
Akasha
Fabio UFO vs Liquid Shape
Unmatter
VENDA DE BILHETES
Phase 1 (until April 30th or 200 tickets): €65.00
Phase 2 (May 1st to August 16th): €80.00
At the event gate: €95.00.
Comprar aqui
Praia Fluvial O Moinho, Benquerença, Castelo Branco
26/08 às 12:00 – 31/08 às 04:00

SUTI FESTIVAL 2020 | BENQUERENÇA – Mais informação ver aqui
Informação Extra:
Autocarros, Estacionamento
Morada:
Praia fluvial o moinho, 6090-000 Benquerença
Coordenadas GPS:
40°13'43.97"N
7°13'18.89"W